This Match Report is sponsored by Aalto Construction,  H&H Construction & Green Tangerine Catering
Tongham 1 Keens Park Rangers 2
Goals: Own goal, Lucas Atkin
Man-of-the-match: Bruce McPhail
They may have left it late, but the first team's pursuit of back-to-back titles remains in their own hands having inflicted a first home defeat of the season on Tongham.
Their enviable home record clearly isn't down to silky football, however, as the visitors were confronted with a boggy pitch with grass so long it was more suitable to rugby than football. In fairness, I'd defy any team to play silky football on this surface. But as much as there was some spoiling tactics, dubious linesmanship and a less than dominant referee to deal with, KPR stuck to (or at least attempted) their usual passing style.
As much as this led to a dominance of possession, it didn't produce the goods. Courage was, nevertheless, looking a distinct threat – and he received some special attention accordingly. As with the first 'off side', the referee failed to do more than make gestures rather than communicate clear instructions (or telling-offs), and poor Courage was almost snapped in two having been sandwiched between two opposition players.
An afternoon of total commitment was clearly required. In being so, the first chances inevitably emerged. Indeed, Luke had a couple before Courage was unlucky not to get to the ball first at the near post. The commitment went both ways of course, and as much as the methods could not have been more different both sides were working their socks off.
The pitch was so heavy it was tiring to watch. And their long ball game paid off as a well struck pass cleared a flat-footed Woodsy for the oncoming forward to latch onto and slot home inside the near post. Quite the sucker-punch, it was more than a little harsh on the visitors who persisted to play through the midfield rather than bypass it.
Incredibly, with only half an hour gone, the home team appeared to shut up shop and the keeper and others were taking their time at every opportunity. They were also rather keen on maintaining a robust style of play, and as much as there were claims for a KPR penalty for a push in the back on Michael Wicherek, the game was on the cusp of boiling over. The massed supporters had certainly had enough of the linesman, whom even the referee was becoming increasingly suspicious.
Credit to KPR, they persisted with the football, and the pressure ultimately told – even if it turned out to be a bizarre own-goal after some good play down the right by Woodsy. His cross may have found Luke, but another shove in the back meant the ball headed goal-wards off his chest. This forced a great save from the keeper. But, with the ball still loose, there was panic in the defence and a failed clearance fell to Courage who struck the ball sweetly.
Deserving of a goal, he sadly hit the post, but such was the speed it rebounded back into the centre of the box it hit a defender on the chest and headed back towards goal. It was at this point that accounts of what happened next get confused, but as far as this witness is concerned the keeper, rather than gather the ball up, only succeeded in 'scooping' the ball between his own legs and over the line. Relief and hilarity ensued in equal measure, but it was less than KPR deserved in an otherwise frustrating half.
The frustration only grew at the very beginning of the second as yet more great play from Courage teed-up Bulldog who hit the post. With no friendly rebound this time, KPR were grateful a chance for the opposition was pushed wide, before the normally clinical Luke, and then Bulldog, squandered a good chance each.
Time was flying by. And, with a draw little or no good, the frustrations were rising even further. As Bar Manager Chainy said it was a good job El Boy wasn't there as he'd have had no home pavilion to hide away in. Although at Stamford Bridge to watch his beloved Chelsea, El Boy got Chainy to provide a running commentary on what should have been the last ten minutes. However, such had been the time wasting, it was clear the referee was going to add a significant number of minutes.
How many exactly was the big question. But how many of the opposition would finish the game was another, as they suffered a number of injuries and, somewhat inevitably, a red card for a second yellow.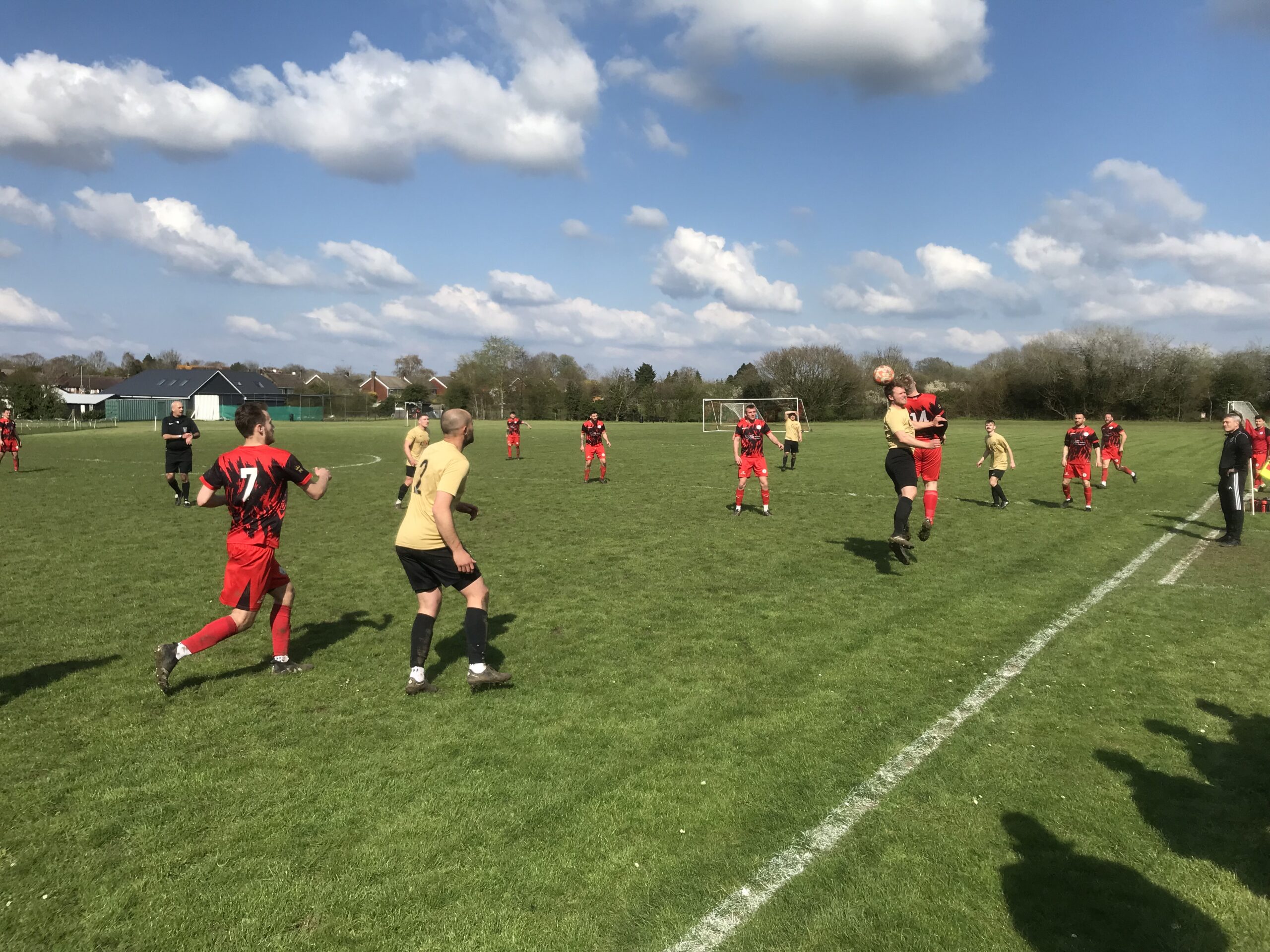 KPR had also made a few changes with Josh on for Courage, Dan on for Michael, and Lucas on for man-of-the-match Bruce before he returned as KPR sought out a winner. This said, it seemed unlikely this would be achieved via conventional play, as yet more dubious offsides were either given or, worse, waved away before the referee lost his nerve and gave them anyway.
And then, all of a sudden, all this was forgotten as Lucas decided to take any offside out of the equation by simply shooting from outside the box! Why nobody hadn't though of this cunning ploy before added time is uncertain, but as soon as the ball hit the back of the net there was a veritable explosion of joy. There may not have been kissing, but grown men were definitely seen hugging.
Surely that was 'last kick of the game' stuff. And yet, there was still plenty of football to be played and it wasn't until almost ten past four that the referee called an end to the match (if not his paperwork as he booked one of the opposition after the whistle).
PHEW!
This Match Report is sponsored by Aalto Construction,  H&H Construction & Green Tangerine Catering